Welcome to Genki Japan.net. Learn Japanese,  in a fun, genki way.
Japanese is a cool language to learn, and I'll show you how to make it easy!
Some Basics…

 My Learn Japanese Download Pack


 Learn Japanese cool, useful words and phrases.


 Tips I used to get fluent in Japanese.


Learn how to read Japanese katakana and hiragana + Other Japanese symbols.


Learn how to do a Self Introduction.+ cell phone ringtones


Japan Jobs: How to get a job in Japan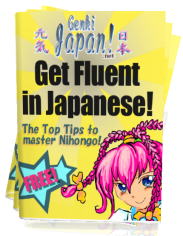 You can also sign up for my weekly "Learn Japanese FAQ" newsletter and get my "Get Fluent in Japanese" eBook worth $19.99 completely FREE
Learn Japanese with Songs:
WARNING: One listen and these songs will stick in your head all day.
Luckily the Japanese will stick there too. Available as YouTube videos and mp3s.
Latest Learn Japanese FAQs
Learn Japanese with Games
The best way to learn. They take around 20 minutes each, the trick is to make lots of mistakes and click on any answer if you're not sure!
"How to use the games" video…
If you're a teacher in Japan, your students might like the original versions of these games.
---
Japanese Food Videos
Cool Japan Videos
Some videos of some of the more unusual, but cool, things you see as you travel round Japan!
My Favorite Japanese Materials Reviews



Here are my reviews of some of the better materials out there for learning Japanese.
All of them are good, if you bought them all your Japanese would be amazing!
Traditional Japan

 O-koto page
Using Flash technology, have a go at playing this traditional Japanese instrument on your computer!
Or check out  My Learn Japanese Download Pack